Downsizing your Collections
Sort and Reduce before you move
It's common for Empty Nesters and Retirees to need to downsize collections of decorative items and household objects.   However, dealing with those collections is often a barrier to moving forward with plans to make a move for the better.  That's why sometimes it's just better for everyone to go ahead and address them first.
We love collections!  It's always fun to see what's in the mix, and seeing collections helps us to get to know our clients better.  Of course, "collections" is a loose term and may apply to many different types of "stuff" in our homes.  Some collections may be deliberate and formal, like the couple in Arlington with over 1500 Elephant-shaped decorative items neatly displayed on shelves, and others are the result of interests and passions that take a life of their own (and end up taking up half the garage!)  
People collect all kinds of things, from coins, stamps, and books (read about my personal obsession with cookbooks!). Objects in a theme are also very popular. Elephants are actually common, along with cats, butterflies, Micky Mouse, you name it!  And of course we all have unintended collections around the home, like tools, tableware, hobby supplies, crafts and my personal favorite (not)… Tupperware!
It may seem obvious, but the easiest place to start downsizing your collections is to identify your very favorite pieces.  Many early pieces in a collection have a special place in our hearts, as do others that are attached to loved ones and memorable times.  On the other end of the spectrum, once a collection is initiated, it inevitably attracts some items that are of less sentimental value than others.  Some people find it's easiest to next look for  and let go of those pieces that don't matter as much to them.  
Of course, it's all those pieces in the middle that become the problem!  Based on your items and the available space in your next house, it makes sense to set a target goal for how much of your collection will go with you.  Then, stick to your plan.
If you have items of value, it's always a good idea to obtain quality appraisals for both insurance coverage and to learn more about potential resale valuation.  Read more about quality art and antique appraisals here.
For art, photography, sculpture or other decorative items, I always encourage clients to take photos of their collections to help them remember and be able to reminisce.  If possible, a nicely bound book can be a terrific way to capture the spirit and memories of a collection and enjoy it at your new place. 
For functional collections, such as baking dishes, pottery etc., many people find it fulfilling to offer pieces to friends and family before the move.  The remaining items may be sold or donated so they may be of use to others.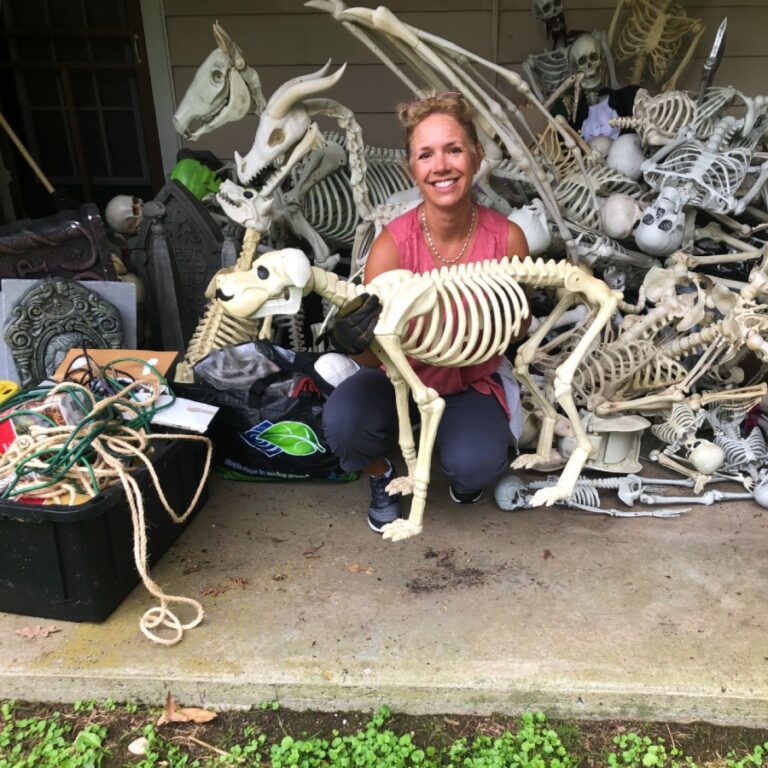 The nature of downsizing collections often creates a need to offload the bulk of the items once the favorites have been preserved.  Whenever possible, we try to find a buyer or donation site that will receive the collection in its entirety.  It takes more time, but our clients appreciate the effort.
Take this fun collection of Halloween decorations that once made up the best haunted house in town!  Our client didn't have space in her new home, and of course no one wanted them to be thrown away.  It was too many to drop off for donation, plus the collection was cool!  We knew someone would really love to have it.
We were able to arrange for a Haunted Hayride in Virginia to come and pick up the collection in its entirety.  Now our client can go and visit her decorations every Fall, and the collection lives on to bring joy to its new owners.  
We love finding the perfect solution for our clients' collections!  Get in Touch to learn more about our custom concierge services for Downsizers.